Blood and Circulatory System Disorders
---
Grade levels:
College: First year, College: Second year, College: Third year, College: Fourth year, Graduate school, Professional
Transports essential oxygen to tissues along with nutrients required for cellular metabolism
provides for the necessary removal of many cell wastes
plays a critical role in the body's defenses/immune system
serves in maintaining body homeostasis
Provides a mechanism for controlling body temperature by distributing Core heat throughout the peripheral tissues
2
Two Separate Circulations
The pulmonary circulation
The systemic circulation
3
The Pulmonary Circulation
allows The exchange of oxygen and carbon dioxide in the lungs
Provides for the exchange of nutrients and wastes between the blood and the cells throughout the body
Transports Blood away from the heart
The smaller branches of arteries
Controls the amount of blood flowing into the capillaries in specific areas through the degree of contraction of smooth muscle in the vessel wall
Very small vessels
Forms the microcirculation
Blood flow very slowly through capillaries
precapillary sphincters
Single endothelial layer

Facilitates the exchange of fluid, oxygen, carbon dioxide, electrolytes glucose, and other nutrients and waste between the blood and interstitial fluid
Determines the amount of blood flowing from the arterioles into the individual capillaries
depends on the metabolic needs of the tissues
conduct blood from the capillary beds toward the heart
returns blood back to the heart
Have thinner walls than arteries and less smooth muscles
the blood vessels that hold the major portion of theintravascular blood volume
veins
12
Walls of arteries and veins
Tunica Intima


the inner layer
endothelium (simple squamous)
flat so fluid can be exchanged back-and-forth

Tunica Media


The middle layer
Layer of smooth muscle
Controls the diameter and lumen size

Tunica Adventitia


outer connective tissue layer
Contains elastic and collagen fibers
A reflex adjustment in a small area of a tissue
varies depending on the needs of the cells in the area
14
Causes of local vasodilation
decrease in pH
increase in carbon dioxide
decrease in oxygen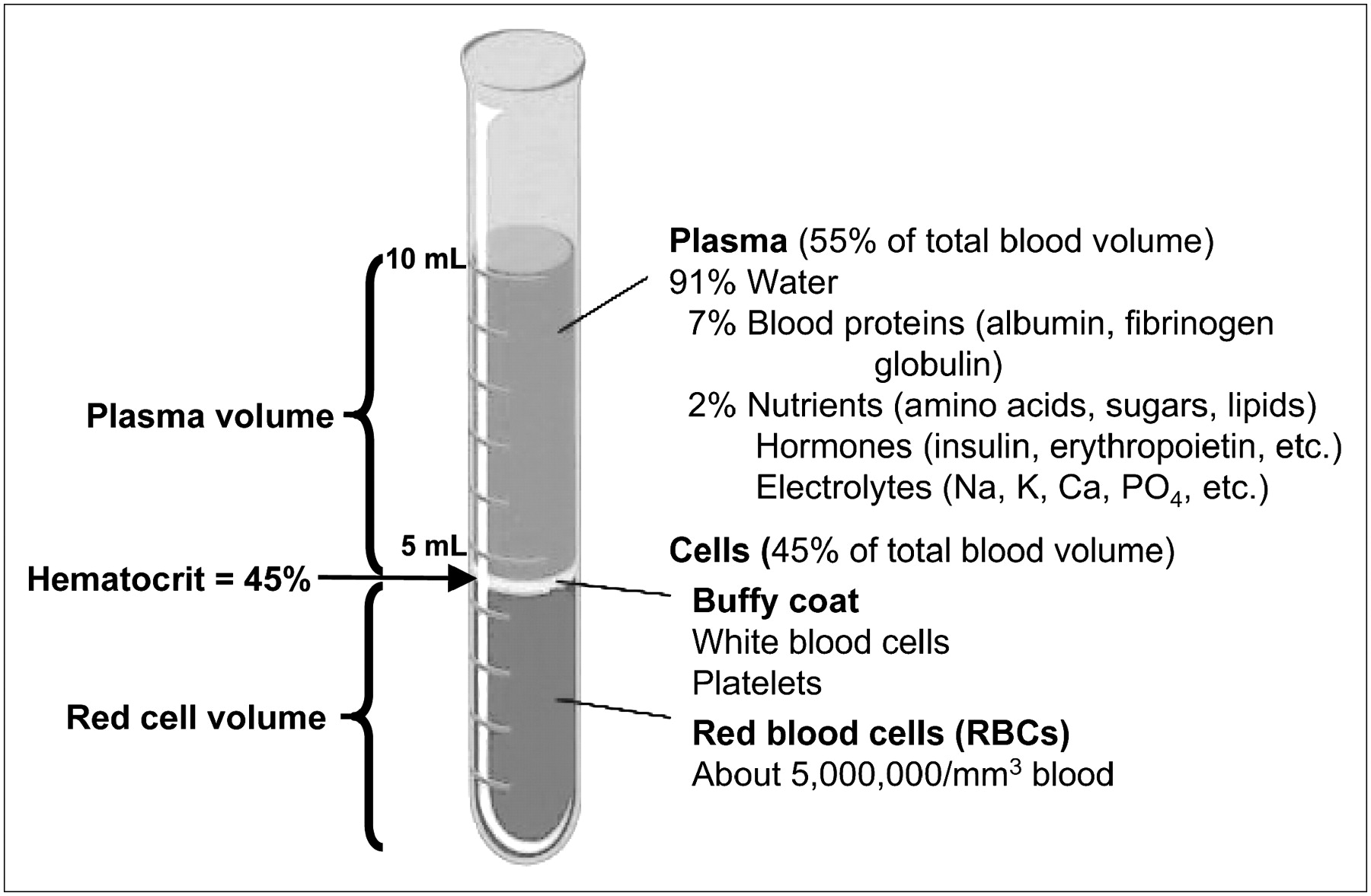 Water and its dissolve solutes (plasma) = 55% of the whole blood volume
remaining 45% is composed of the cells or formed elements erythrocytes, leukocytes, and thrombocytes
Refers to The proportion of cells in blood
Indicates the viscosity of the blood
The clear yellowish fluid remaining after the cells have been removed
contains:

water 92%
plasma proteins 7%
other solutes 1%

Amino acids
Carbohydrates
Lipids
Vitamins
Hormones
Enzymes
Electrolytes
Wastes
Refers to the fluid and solutes remaining after the cells and fibrinogen has been removed
19
Examples of plasma proteins
Albumin
Globulins/Anti-bodies
fibrinogen
Maintains osmotic pressure in the blood
essential for the formation of blood clots
Origination of all blood cells
found in the flat and irregular bones, ribs, vertebrae, sternum, and pelvis
23
Erythrocytes or red blood cells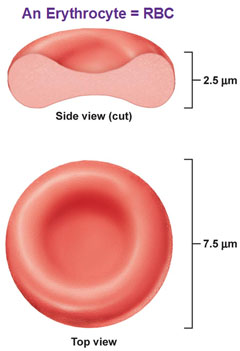 Biconcave flexible discs
non-nucleated when mature state
Contain hemoglobin
Size and structure are essential for easy passage to small capillaries
life span = 120 days b/c no nucleus
Originates in the kidney
Hormone that stimulates erythrocyte production in the red bone marrow
Consists of:

the globlin portion

two pairs of amino acid chains

four heme groups

each containing a ferrous iron atom, to which oxygen molecule can attach
A bright red color that distinguishes arterial blood from venous blood
Dark bluish red in color and font and venous blood
Production of white blood cells
Stimulated by colony stimulating factors that are produced by cells such as macrophages and T lymphocytes
Makes up only about 1% of blood volume
Subdivided into two categories:

Granulocytes
Agranulocytes

All types develop in differentiate from the original stem cell in bone marrow
There are five types of leukocytes

Lymphocytes
Neutrophils
Basophils
Eosinophils
Monocytes
Makes up 30 to 40% of the white blood cells
The most common leukocyte
Makes up 50 to 60% of White blood cells
Survive only four days
The first to respond to any tissue damage And phagocytosis
Increase in numbers by bacterial affection
Can release histamine and heparin
Maybe fixed in tissues or wandering
Combat the effects of histamine
Increase by allergic rea ctions and parasitic infections
can enter the tissue to become macrophages
Indicates the proportion the specific types of white blood cells in the blood
Assist in making a diagnosis
Essential part of the blood clotting process
Not cells
Non-nucleated
An immediate response of a blood vessel to injury is vasoconstriction of vascular spasm
Form a platelet plug in the vessel
Coagulation mechanism
an anticoagulant
Released from basophils or mast cells in the tissues
Blocks thrombin
Does not dissolve clots but prevents further growth of the thrombus
Determined by the presence of specific antigens on the cell membranes of erythrocytes
An inherited characteristic
Depends on the presence of type A or B antigens
Lack A and B antigens
are considered universal donors
May cause blood and incompatibility if the mother is Rh negative and the fetus is Rh positive
Antigen D in plasma membrane = RH positive
Absence of antigen D = RH negative
44
Complete blood count (CBC)
diagnostic test for blood
Includes total red blood cells, white blood cells, platelet count, and morphology (size and shape), a differential count for white blood cells, hemoglobin, and hematocrit values
An increase in white blood cells
Often associated with inflammation or infection
Decrease in leukocytes
Occurs with some viral infections as well as with radiation and chemo therapy
Common with allergic responses and parasitic infections
Observe with blood sMears
Shows size, shape, uniformity, and maturity of cells

Helps to distinguish different types of anemia
49
Hemoglobin (diagnostic test)
Amount of hemoglobin per unit volume of blood
Mean corpuscular volume

Indicates the oxygen-carrying capacity of blood

Mean corpuscular hemoglobin
Assessment of bone marrow function
51
Chemical analysis of the blood
Determine serum levels of components such as iron, vitamin B12, folic acid, cholesterol, urea, and glucose
52
Bleeding time (diagnostic test)
Measures platelet function
53
prothrombin time (PT) and partial thromboplastin time (PTT)
Measures function of various factors in coagulation process
interNational normalized ratio is a standardized version
54
partial thromboplastin time
Measures the intrinsic pathway
PTT... the 2 t's are in(trinsic) a relationship
measures the extrinsic pathway
A reduction in oxygen transport in the blood due to a decrease in hemoglobin content
May result from the declining production of the protein, a decrease in the number of erythrocytes, or a combination of these factors
May be classified by typical cell morphology
oxygen deficiency leads to:

Less energy production and all cells

Cell metabolism and reproduction diminished

Compensation mechanism to improve the oxygen supply

ex:

Tachycardia
peripheral vasoconstriction

General signs of anemia

Fatigue, Pallor, dyspnea, and tachycardia

Decrease regeneration of epithelial cells
Insufficient iron impairs hemoglobin synthesis

Which reduces the amount of oxygen transported in the blood

Red blood cells are microcytic and hypochromic
Very common
Ranges from mild to severe
Occurs in all age groups
One in five women is affected

Proportion increases for pregnant women

Frequently a sign of an underlying problem
58
Etiology of iron deficiency anemia
Dietary intake of iron may be below the minimum requirement
Chronic blood loss
duodenal absorption of iron may be impaired
Severe liver disease may affect both iron absorption and iron storage
59
Manifestations of iron deficiency anemia
pallor of the skin and mucous membranes
Due to vasoconstriction
Fatigue,lethargy, and cold intolerance

b/c cell metabolism decreased

Irritability

A central nervous system response to hypoxia

Degenerative changes

such as brittle hair, spoon shaped and rigid nails

Inflammation of oral mucosa and tongue
Menstrual irregularities
Delayed healing
Tachycardia, heart palpitations, dyspnea, syncope
* People who have iron deficiency anemia may have unusual craving for nonfood items such as ice, paint, or starch. This craving is called pica
60
Diagnostic tests for Iron deficiency anemia
Laboratory test demonstrate low values of hemoglobin, hematocrit, mean corpuscular volume and mean corpuscular hemoglobin, serum ferritin and serum iron, and transferrin saturation
61
Treatment for iron deficiency anemia
Identified underlying cause and resolves if possible
Consume Iron rich foods or iron supplements
62
pernicious anemia: vitamin B12 deficiency (megaloblastic anemia)
The common form of megaloblastic anemia
Caused by the malabsorption of the vitamin B12
Iron deficiency may be present as well
Red blood cells are very large and contain nuclei
Dietary and sufficiency is a very rare cause
May be an outcome of surgeries in which the parietal cells are removed or resection of the ileum which is a sight of absorption
63
Vitamin B12 and nerve cells
Vitamin B12 is needed for the function and maintenance of neurons
Deficiency can result in neuropsychiatric symptoms
64
Manifestations of pernicious anemia
Tongue is typically in large, red, sore, and shiny
Decrease in gastric acid leads to digestive discomfort such as nausea and diarrhea
Tingling or burning sensations in the extremities or loss of coordination and ataxia
65
Diagnostic tests for pernicious anemia
Microscopic examination (erythrocytes)
Bone marrow examination (hyperactive)
Vitamin B12 serum levels below normal
66
Treatment for Pernicious Anemia
Oral supplements are recommended
Vitamin B12 is administered by injection
Results from impairment or failure of bone marrow leading to loss of stem cells and pancytopenia
may be temporary or permanent
often idiopathic
decreased numbers of erythrocytes, leukocytes, and thrombocytes in the blood.
results from excessive destruction of RBCs
leads to a low erythrocyte count and low hemoglobin
causes:

genetic defects
immune reactions
Changes in blood chemistry
Presence of toxins in the blood
Infections such as malaria
Antigen-antibody reaction

Incompatible blood transfusion
70
What term is used to describe a deficit of all types of blood cells?
Leucopenia
Neutropenia
Pancytopenia
Erythrocytosis
71
Capillary walls consist of:
multiple endothelial layers.
a thick layer of smooth muscle.
two or three epithelial layers.
a single endothelial layer
a single endothelial layer
72
Individuals with type O blood are considered to be universal donors because their blood:
contains A and B antibodies.
contains A and B antigens.
lacks A and B antibodies.
lacks A and B antigens.
73
What causes numbness and tingling in the fingers of individuals with untreated pernicious anemia?
Persistent hyperbilirubinemia
Increasing acidosis affecting metabolism
Vitamin B12 deficit causing peripheral nerve demyelination
Multiple small vascular occlusions affecting peripheral nerves
Vitamin B12 deficit causing peripheral nerve demyelination
74
What is the cause of oral ulcerations and delayed healing occurring with any severe anemia?
Lack of folic acid for DNA synthesis
Frequent microinfarcts in the tissues
Deficit of oxygen for epithelial cell mitosis and metabolism
Elevated bilirubin levels in blood and body fluids
Deficit of oxygen for epithelial cell mitosis and metabolism
75
Why is pernicious anemia treated with injections of vitamin B12?
An immune reaction in the stomach would destroy the vitamin.
Digestive enzymes would destroy the vitamin.
The vitamin irritates the gastric mucosa.
The ingested vitamin would not be absorbed into the blood.
The ingested vitamin would not be absorbed into the blood.
76
Why do vascular occlusions and infarcts occur frequently with sickle cell anemia?
The red blood cells are abnormally large.
Increased hemolysis of erythrocytes occurs.
Erythrocytes change to sickle shape when hypoxia occurs
HbS is unable to transport oxygen
Erythrocytes change to sickle shape when hypoxia occurs
77
In cases of polycythemia vera, blood pressure is elevated as a result of:
increased blood volume.
frequent infarcts in the coronary circulation.
congested spleen and bone marrow.
increased renin and aldosterone secretions.
78
In individuals with pernicious anemia, antibodies form to:
vitamin B12 .
intrinsic factor or parietal cells.
mucus-producing glands.
hydrochloric acid.
intrinsic factor or parietal cells.
79
Petechiae and purpura are common signs of:
excessive hemolysis.
leucopenia.
increased bleeding.
hemoglobin deficit.
80
Which of the following substances acts as an anticoagulant?
Prothrombin
Heparin
Fibrinogen
Vitamin K
81
Why is excessive bleeding a common occurrence with acute leukemia?
Deficit of calcium ions
Impaired production of prothrombin and fibrinogen
Decreased platelets
Dysfunctional thrombocytes
82
Multiple myeloma is a malignant tumor involving:
plasma cells.
granulocytes
bone cells.
lymph nodes.
83
The Reed-Sternberg cell is diagnostic for:
chronic myeloblastic leukemia.
Hodgkin's lymphoma.
multiple myeloma.
non-Hodgkin's lymphoma.
84
Which of the following applies to the leukemias?
Chronic leukemias are more common in older people.
AML is the most common childhood leukemia.
Exposure to chemicals is not considered a predisposing factor.
Lymphoid tissue produces abnormal leukocytes.
Chronic leukemias are more common in older people.
85
A high percentage of blast cells in the leukocyte population indicates a poor prognosis for an individual with:
thalassemia
acute myelogenous leukemia (AML).
myelodysplastic syndrome.
multiple myeloma.
acute myelogenous leukemia (AML).
86
Which of the following applies to erythropoietin?
It is produced by the liver.
It increases iron absorption for heme production.
It stimulates production of red blood cells.
Hypoxia stimulates the red bone marrow to produce erythropoietin.
It stimulates production of red blood cells.
87
Microcytic and hypochromic erythrocytes are commonly found as a result of:
iron deficiency anemia.
polycythemia
disseminated intravascular coagulation.
hemophilia A