1
Three Functions of the Urinary System
Excretion
Elimination
Homeostatic
Regulation
the removal of organic wastes from body fluids
Discharge of waste products into the environment
Of blood plasma volume and solute concentration
5
Organs of the Urinary System
kidneys (2)
ureters (2)
urinary bladder
urethra
perform the excretory functions of the urinary system
produces urine located on either side of the vertebral
column
left kidney lies slightly superior to the right kidney
because of liver
fluid that contains ions, water, and small soluble
compunds
organs that eliminate urine


ureters (2)
Urinary Bladder
Urethra
paired tubes
muscular sac for temporary storage of urine
exit tube
process of eliminating urine
the muscular urinary
bladder contracts and forces urine through the urethra
13
Homeostatic Functions of the Urinary System
Regulates blood volume & blood pressure


by adjusting the volume of water lost in urine
releases erythropoietin and renin

Regulates plasma concentrations of sodium, potassium, and
chloride

by controlling quantities lost in
urine the kidneys
also control calcium ion levels through
the synthesis of calcitriol

Helps stabilize blood pH

by controlling
loss of hydrogen ions and bicarbonate ions in urine



Conserves valuable nutrients

by preventing
their loss in urine while removing organic wastes
especially (nitrogenous wastes) urea and uric acid

Assists the liver in detoxifying
poisons
14
The left kidney lies slightly ___________ to the right kidney.
superior
15
The superior surface of each kidney is capped by an ______ ______.
adrenal gland
16
Three Concentric Layers of Connective Tissue that Protect &
Stabilize Each Kidney
Fibrous Capsule
Perinephric Fat
Renal
Fascia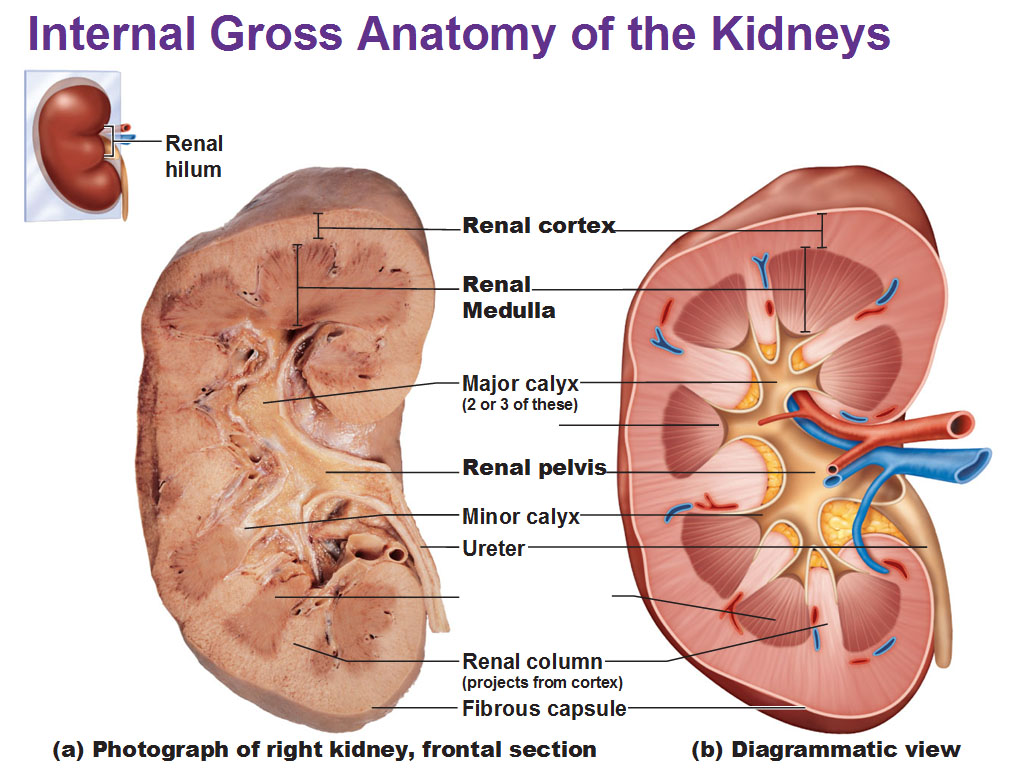 layer of collagen fibers covers outer surface of the
entire organ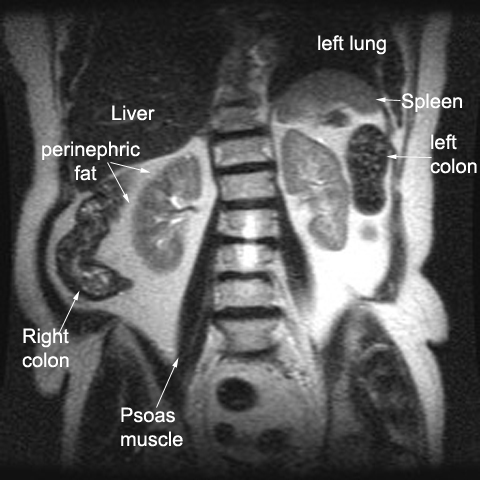 thick layer of adipose tissue that surrounds the fibrous
capsule
a dense, fibrous outer layer that anchors the kidney to
surrounding structures
reddish brown
10 cm long
5.5 cm wide
3 cm thick
weighs about 150 g
medial indentation point of entry for the renal artery
and renal nerves
point of exit for renal vein and
ureter
an internal cavity within the kidney lined by fibrous
renal capsule
superficial portion of the kidney, in contact with the renal
capsule
reddish-brown and granular
consists of 6 to 18 triangular structures
6 to 18 distinct triangular structures in renal medulla
base abuts cortex tip (renal papilla projects into
renal sinus
bands of cortical tissue separates adjacent renal pyramids
extend into medulla granular tissue
consists of:

renal pyramid overlying area of
renal cortex
adjacent tissues of renal columns
produces urine
28
Urine is produced in the ____ _____.
ducts discharge urine into minor calyx
cup shaped drain
formed by four or five minor calyces
formed by 2 or 3 major calyces
funnel shaped chamber
fills most of the renal sinus
connected to
ureters, which drains kidneys
microscopic, tubular structures in cortex of each renal love
where urine production begins
kidneys receive 20-25% of the total cardiac output
1200 mL of blood flow through the kidneys each minute
35
Kidney receives blood through the _______ _______.
renal artery
recieves blood from the renal artery
divides into interlobular arteries
radiate outward through the renal columns between the renal pyramids
supply blood to the arcuate arteries
arch along the boundary between the cortex and medulla of the kidney
delivers blood to the capillaries supplying individual nephrons
40
Cortical Radiate Veins/Interlobular Veins
deliver blood to the arcuate veins
empty into interlobar veins
drain directly into renal vein
innervate the kidneys and ureters
enters each kidney at the hilum
follows the branches of the renal arteries to reach individual nephrons
Adjusts rates of urine formation

by changing blood flow and blood pressure at the nephron

Stimulates the release of renin

which restricts water and salt loss in urine by stimulation reabsorption by the nephron
consists of:

renal tubule
renal corpuscle
a spherical structure consisting of:

glomerular (Bowman's) capsule
glomerulus

squamous cells
46
Glomerular (Bowman's) Capsule
begins at renal corpuscle
long tubular passageway
consists of 50 intertwined capillaries
projects into the glomerular (Bowman's) capsule
blood leaves the glomerulus in an efferent arteriole
flows into a network of capillaries called peritubular capillaries
drain into small venules that return blood to the venous system
50
The process of filtration takes place in the _______ ________.
renal corpuscle
forces water and dissolved solutes out of the glomerular capillaries into capsular space
takes place in the renal corpuscle
produces protein free solution (aka filtrate)
protein-free solution (similar to blood plasma)
moves from renal corpuscle to renal tubule
54
Three Functions of the Renal Tubule
Reabsorb useful organic nutrients that enter filtrate
Reabsorb more than 90% of water that enter filtrate
Secrete waste products that failed to enter renal corpuscle through filtration at glomerulus
55
Proximal Convoluted Tubule
reabsorption of water, ions, and all organic matter
cuboidal cells with abundant microvilli
secretion of ions, acids, drugs, and toxins
variable reabsorption of water, sodium ions, and calcium ions
cuboidal cells with few microvilli
57
Descending Limb of Loop of Henle
further reabsorption of water
squamous cells
58
Ascending Limb of Loop of Henle
reabsorption of sodium and chloride ions
low cuboidal cells
59
As the filtrate travels along the renal tubule, it is now called ______ _____.
series of tubes that carry tubular fluid away from the nephron

collecting ducts
papillary ducts
61
Each nephron empties into the __________ _________.
collecting system
receives fluid from many nephrons
carried fluid to papillary ducts that drain into a minor calyx
cuboidal to columnar cells
reabsorption of water, sodium ions
columnar cells
conducts tubular fluid to minor calyx
85% of all nephrons
located mostly in superficial cortex of kidney
nephron loop is short
efferent arteriole delievers blood to a network of peritubular capillaries
15% of nephrons
long nephron loops that extend deep into the medulla
peritubular capillaries are connected to the vasa recta
long straight capillaries that parallel the nephron loop
67
The Nephron Loop (Loop of Henle)
descending limb

fluid flows toward the renal pelvis

ascending limb

fluid flows toward the renal cortex
68
The Juxtaglomerular Complex
an endocrine structure that secretes:

hormone erythropoietin
enzyme renin

formed by:

macula densa
juxtaglomerular cells
epithelial cells of DCT
near renal corpuscle
tall cells with densely clustered nuclei
maintain homeostasis

by regulating volume and composition of blood
including excretion of metabolic waste products
71
Three Organic Waste Products
Urea
Creatinine
Uric Acid
dissolved in bloodstream
are eliminated only while dissolved in urine
removal is accompanies by water loss