1
How is the synthesis of dibenzalacetone classified according to reaction type?
2
Write the balanced equation for the overall preparation of dibenzalacetone.
acetone + 2 benzaldehyde --OH--> dibennzalacetone + 2 H2O
(CH3)2CO + 2 C6H5-CHO –OH-->C6H5HC=CH-CO-CH=CH-C6H5 + 2 H2O
3
Why does the acetone carbanion react with benaldehyde rather than another molecule of acetone?
Benzaldehyde is more active than acetone.
4
Why is this reaction carried out in a solvent mixture that contains both water (in which 10% NaOH is dissolved) and alcohol? Why can't either solvent be used alone.
Water is used to dissolve the NaOH and alcohol is used to dissolve benzaldehyde. If both benzaldehyde and NaOH aren't dissolved, they won't react.
5
Two resonance structures for carbanion produced when NaOH reacts with acetone. Acetone carbanion.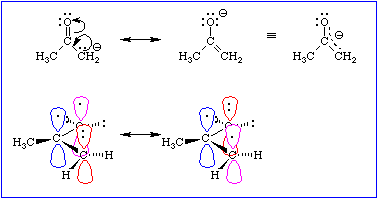 6
What should be the approximate location of C=O in the IR spectrum of pure dibenzalacetone?
7
What happens if too much acetone is used the synthesis of dibenzalacetone?
Too much acetone would produce benzalacetone as opposed to dibenzalacetone.
8
What hapens if the reaction flask isn't stoppered and some of the acetone evaporates during the synthesis of dibenzalacetone?
If acetone evaporates, there will not be enough acetone to contribute enough alpha hydrogens, preventing the reaction from occurring.
9
What happens if the product crystals are filtered immediately upon formation?
Crystallization would be incomplete leading to a loss of product.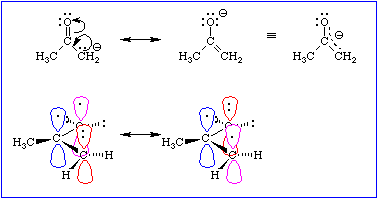 + H2O
11
benzaldehy + NaOH (conc.)
2 C6H5CHO + NaOH → C6H5CO2Na + C6H5CH2OH
http://science.uvu.edu/ochem/index.php/alphabetical/a-b/alpha-carbon/

15
acetophenone + benzaldehyde + NaOH (2:1 ratio)
?????
16
Calculate theoretical yield.
17
Calculate limiting reactant.
1. calculate theoretical yield
2. lowest yield is limiting reactant
(actual / theoretical) x 100
19
What is aldol condensation?
Enolizable aldehydes and enolizable ketones, in the presence of an acid or base catalyst in aqueous medium at high temperature, undergo a reaction, giving an α, β-unsaturated aldehyde or an α, β-unsaturated ketone, respectively, as the product.
20
Resources
http://faculty.mdc.edu/qzhang/chm2211L/experiment24.htm
https://www.youtube.com/watch?v=YQkcNeIgdoU
http://course1.winona.edu/tnalli/s13/expt6dibenzalacetone.html