-the body's framework, composed of cartilage & bone
-in embryos the skeleton is predominantly made up of hyaline cartilage, replaced by more rigid bone.
2
Functions of the skeleton.
-supports and protects the body
-responsible for body movement
-bones store lipid and minerals
-site of hematopoiesis
-bones that lie around the body's center of gravity
-bones of the limbs or appendages
-covers bone ends at movable joints
-connects ribs to sternum
-constructs the larynx (voice box)
8
Tracheal & Bronchial Cartilage
-reinforce passageways of the respiratory system
-supports the external nose
-separates and cushions bones of the spine
-dense connective tissue that surrounds cartilage
-provides sturdy support with some resilience
-most skeletal cartilage is hyaline cartilage
-more flexible than hyaline cartilage
-located in the external ear and epiglottis
-consists of rows of chondrocytes alternating with rows of thick collagen fibers
-great tensile strength, can withstand heavy compression
-smooth and homogenous
-composed of small bars of bones and lots of open space
-much longer than they are wide
-generally consists of a shaft with heads at either end
-predominantly composed of compact bone
-examples: femur & phalanges
-typically cube shaped
-contains more spongy bone than compact bone
-example: tarsal and carpals
-generally thin with 2 wafer-like layers of compact bone sandwiching a layer of spongy bone between them
-many flat bones are curved
-bones that do not fall into any of the categories
-ex: vertebrae
-special types of short bones formed in tendons
-Example: patellas
-tiny bones between cranial bones
-large rounded projection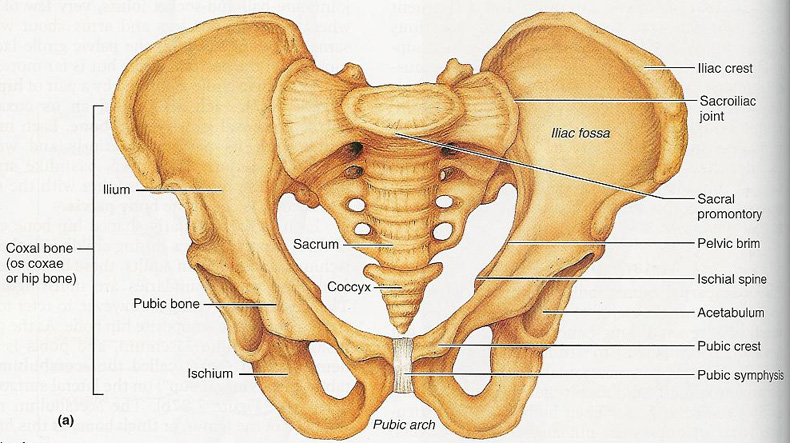 -narrow ridge of bone
-very large, blunt, irregulary shaped process
-narrow ridge of bone; less prominent than a crest
- small rounded projection or process
-raised area on or above a condyle
-sharp, slender, often pointed projection
-bony expansion carried on a narrow neck
-smooth, nearly flat articular surface
-rounded articular projection
-armlike bar of bone
-furrow
-narrow, slitlike opening
-round or oval opening through a bone
-indentation at the edge of a structure
-canal like passageway
-bone cavity, filled with air and lined with mucous membrane
-shallow basin-like depression in a bone
-the shaft of a bone
-composed of compact bone
-has a smooth surface
-fibrous membrane covering the bone
-fibers of the periosteum that penetrates into the bone
45
Osteoblasts and osteoclasts are found on the inner, or osteogenic layer of the _____________.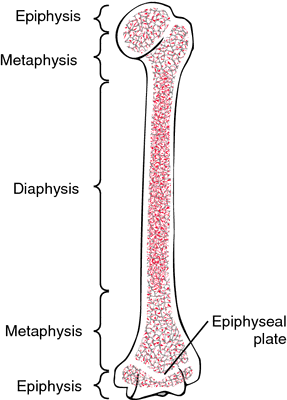 -end of the long bong
-composed of a thin layer of compact bone that encloses spongy bone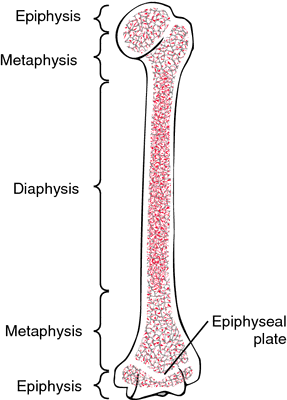 -thin area of hyaline cartilage that provides for longitudinal growth of the bone during youth
-storage region for adipose tissue, or yellow bone marrow
barely, discernible remnants
50
Central (Haversian) Canal
-runs parallel to the long axis of the bone
-carries blood vessels, nerves, and lymphatic vessels through the bony matrix
the central canal and all the concentric lamellae surrounding it
-tiny canals radiating outward from a central canal to the lacunae of the first lamella and then lamella to lamella
-forms dense transportation networks through the hard bone matrix, connecting all the living cells of the osteon to the nutrient supply