Biological Chemistry
---
The smallest particle of an element that still contains all the properties of the element
The weight of the atom
# of protons + # of neutrons
4
An atom is neutral when the number of __________ equals the number of __________.
An atom that has an unequal amount of electrons and protons
Each of two or more forms of the same element that contain equal numbers of protons but different numbers of neutrons in their nuclei, and hence differ in relative atomic mass. Usually unstable.
The smallest unit of a substance (more than 1 atom) having its own properties.
The discrete levels surrounding the nucleus
9
Inner electrons have _________ energy and outer electrons have _________ energy.
Electrons within the outermost energy level
When their valence shell isn't full
12
What are two types of strong chemical bonds?
The transfer of electrons
15
Two types of covalent bonds
1. Polar: unequal sharing of electrons
2. Nonpolar: equal sharing of electrons
16
Three biologically important weak bonds
1. Hydrogen bonds
2. Van-der-Waals interactions
3. Hydrophobic Interactions
Polar covalent bonding as a single hydrogen is shared between electronegative atoms N or O. This is a weak electrostatic interaction.
H2O
18
Van-der-Waals interactions
Occurs between electrically neutral molecules when they are very close together, due to slight perturbations of electron distributions
Occurs between groups that are insoluble in water; these nonpolar groups tend to clump together minimizing their exposure to H2O
20
Hydrogen bonds alone are very __________, but together as a whole ___________.
21
The DNA back bone is held together by __________ bonds.
22
1. A and T are held together by a __________ bond.
2. G and C are held together by a __________ bond.
23
pH is the measure of __________ concentration
24
What is the equation for pH?
pH = -log10 [ H+ Concentration ]
25
__________ + log10 [OH-] = -14
log10 [H+] + log10 [OH-] = -14
When pH is 7, at neutrality.
27
1. If a solution is neutral and H+ is added then the pH goes toward __________.
2. If the solution is neutral and OH- is added the the pH goes towards __________.
1. Acid: Proton donor
2. Base: Proton acceptor
3. Salt: Dissociates but releases neither OH- of H+
Has the ability to minimize pH fluctuations by:
1. Bonding to H+ as H+concentration rises, therefore removing them from the solution.
2. Releasing H+ into solution as the concentration of H+ begins to fall
The rearrangement of atoms often involving making or breaking of chemical bonds
31
Most organisms are __________ - __________% water.
32
Give 5 reasons why water is important
1. Water is a gold solvent, dissolves but is inert
2. High surface tension due to hydrogen bonding (capillary action)
3. High heat capacity due to hydrogen bonds absorbing heat from chemical reactions (maintains body temperature)
4. High heat of vaporization due to many hydrogen bonds
5. Ice is less dense than liquid water so ice floats
33
How do water molecules come together?
Hydrogen bond forms between the H of one water molecule and the O of the other.
34
CO2 is considered __________ even though it contains carbon, due to its structure.
35
Give two reasons why CO2 is important
1. Used by green plants together with H2O and light to manufacture complex organic molecules for food
2. Major by-product of metabolism of aerobic organisms
36
Give two reasons why O2 is important
1. Required by most living organisms for maintenance of life
2. Needed fro oxidation of nutrient molecules - extracting usable energy from them
37
Carbon has __________ valence electrons
1. Forms single, double, and triple bonds with itself
2. Forms double bonds with O and N
3. Forms triple bonds with N
39
Carbon is very __________.
40
__________, __________, __________, and __________ are the lightest elements that form covalent bonds.
41
Describe how carbon compounds exhibit great structural diversity
they can form rings, straight and bent chains, branched chains, and stereoisomers
Same elemental content but different spatial arrangement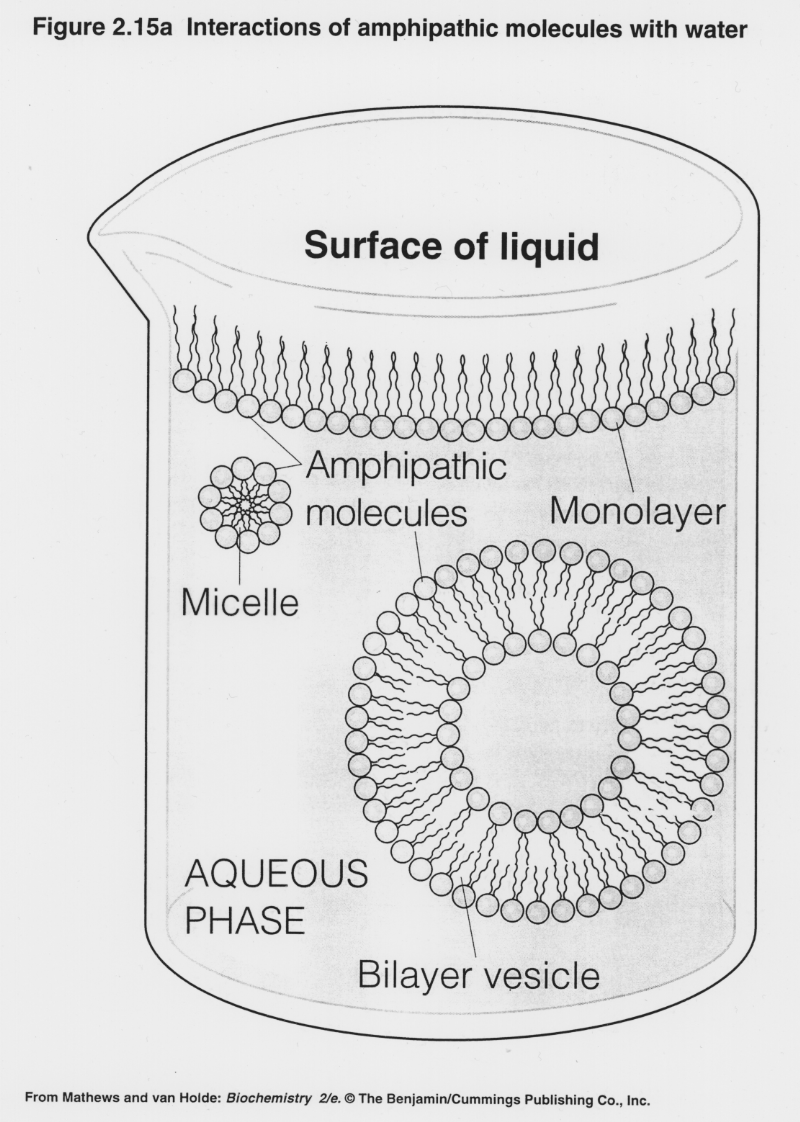 Both hydrophobic and hydrophilic in one molecule
Both positive and negative charge in the same molecule
45
1. What functional group is this?
2. Is it polar or nonpolar?
1. Carboxyl group
2. Polar
46
1. What functional group is this?
2. Is it polar or nonpolar?
47
1. What functional group is this?
2. Is it polar or nonpolar?
1. Hydroxyl group
2. Polar
48
1. What functional group is this?
2. Is it polar or nonpolar?
1. Sulfhydryl group
2. Polar
Carbohydrates (sugars, starches, cellulose, chitin)
50
What is another word for a macromolecule?
51
Polymers are made by jioning many similar or identical small molecules called __________.
Basic building block molecules
Simple sugars (monoscaccharides) many contain 3, 5, 6 or more carbons
53
Glucose and fructose are monosaccarides containing __________ carbons
54
What are the two forms of monosaccarides?
1. Aldosugars: have an aldehyde functional group (H-C=O)
2. Ketosugars: Have a ketone functional group (C=O)
55
What is the difference between α-D-glucose and β-D-glucose?
α-D-glucose has its hydroxyl on carbon 1 pointing downward
β-D-glucose has its hydroxyl on carbon 1 pointing upward
56
Condensation dehydration reaction
Reaction that builds a molecule by losing water
Reaction that breaks a molecule down by adding water
58
2 monosaccharides can be covalently bonded together to form a disaccharide through __________ __________ __________
Condensation dehydration reaction
59
When 2 monosaccharides are bonded together to form a disaccharide the resulting bond is called a __________ bond
60
3 examples of gylcosidic bonds:
1. Glucose + Glucose =
2. Glucose + Fructose =
3. Glucose + Galactose =
1. Glucose + Glucose = Maltose
2. Glucose + Fructose = Sucrose
3. Glucose + Galactose = Lactose
61
What monosaccharide is this?
62
Condensation dehydration, and hydrolysis reactions are very important in __________.
63
Through repeated condensation reaction, you can build __________ which are polymers of monosaccharides.
64
What is the difference between an α-1,4-glycosidic linkage and a β-1,4-glcosidic linkage?
α-1,4-glycosidic linkage connects two α sugars
β-1,4-glcosidic linkage connects α sugar and one sugar
65
What enzyme breaks glycosidic linkages?
Principal carbohydrate storage product in animals
Highly branched glucose glucose polymer
67
What is the most common linkage in glycogen?
Polymer of α-D-glucose liked by α-1,4-linkages
68
Describe this image
This is glycogen. Each end of glycogen produces 2 molecules of glucose, that's why there is so many ends
69
Glycogen is stored mainly in your __________ and __________.
70
Function of glycogen in liver
Source of glucose to maintain blood sugar levels
71
Function of glycogen in muscles
Serves as fuel to generate ATP for muscle contraction
Principle carbohydrate storage product of higher plants. Glucose polymer , unbranched amylose, and branched amylopectin
73
Amylopectin has what type of linkage?
74
Starch deposits are usually 10-30% __________ and 70-90% __________
75
Starch deposits are stored as __________ in chloroplasts or __________.
76
Cellulose is highly __________.
The structural carbohydrate in plants
78
Cellulose is a repeating monomer of _____-_____-glucose with _____-_____, _____-linkages
Cellulose is a repeating monomer of β-D-glucose with β-1,4-linkages
79
Can mammals utilize cellulose as food? why or why not?
No. Mammals lack the enzymes to break it down
80
How are goats and sheep able to break down cellulose?
They contain bacteria and protozoa in their rumen that break it down into a form they can use
81
NAG - formed by what?
NAM - requires what?
NAG - formed by acetylation of amino acids
NAM - requires further addition of 3C-lactyl group to carbon atom 3
The exoskeleton of insects
Consists of NAG units joined by β-1,4-linkages
83
Lipids are composed mostly or _______, _______, and _______.
Carbon, Hydrogen and Oxygen
84
Lipids are a heterogeneous group of substances (fats, oils, sterols) lumped together because...
of the solubility in organic substances and H2O insolubility.
85
Lipids are important as _______ molecules and __________ components
86
What are the 5 types of lipids
1. Triglycerides
2. Phospholipids
3. Sterols
4. Sphingolipids
5. Glycosphingolipids
Long, unbranched hydrocarbon chains with a single carboxyl group at one end.
88
Fatty acids have a __________ hydrocarbon chain and a __________ carboxyl group.
Glycerol and 3 fatty acids that come together though ester linkages
90
What is an ester linkage?
91
Fatty acids chains can vary in length and degree of __________.
92
Describe saturated fatty acid chains
Contain no double bounds and every C is attached to its maximum number of H's
93
What is the general formula for saturated fatty acids?
CnH2nO2
-For chains with "n" carbons
94
Describe how the saturated fatty acid chain sits
Chains are straight, long, and packed tightly together
95
Describe unsaturated fatty acid chains
Contain one or a few double bonds
96
How does the double bonds in unsaturated fatty acids affect their shape?
The double bonds cause kinks in the chain preventing it from being tightly packed
97
Fatty Acids are __________.
Contain mostly saturated fatty acids
Solid or semisolid at room temperature
Found in animals
In plants triglycerides usually liquid
Predominantly unsaturated and liquid because of the kinks
A glycerol + 2 fatty acids + phosphate group
101
The phosphate is attached to the glycerol via __________ __________ linkage
102
What can be added to the phosphate of a phospholipid?
4 joined rings differing in numbers and positions of double bonds and functional groups
104
Four types of steroid hormones
1. Adrenocortical hormones
2. Sex hormones
3. Vitamin D and Bile acids
4. Cholesterol
Any hormone secreted by the adrenal cortex
Estrogen
Progesterone
Testosterone
107
Vitamin D and the bile acids
Involved in lipid digestion in the intestine
Found in plasma membrane but not in internal membranes; largely hydrophobic with only a OH group to confer hydrophilicity at 1 end of the molecule
Found in animals and based on the amino alcohol sphingosine instead of glycerol
110
How are sphingolipids formed?
When fatty acid attached is called a ceramide and has polar region flanked by 2 long nonpolar tails
Contains sugar on the head
Cerebrosides and gangliosides
one sugar on the head
more complex sugar head groups
114
How do lipids behave in water?
They form a micelle
115
If two or more micelles fuse then what is formed?
116
Nucleic acids make up __________
117
Nucleic acids form polymers of ____________ (DNA and RNA)
118
Three things that make up nucleotides
1. Negatively charged phosphate group
2. Sugar (pentose)
3. Nitrogenous base
119
What sugar is this?
120
What sugar is this?
121
What does a phosphate group look like?

122
What are the 5 nitrogenous bases?
Adenine
Guanine
Thymidine
Cytosine
Uracil
123
1. Name the purines
2. Name the Pyrimidines
1. Adenine, Guanine
2. Thymidine, Cytosine, Uracil
124
How can tell the difference between purines and pyrimidines?
Purines have 2 rings
Pyrimidines have 1 ring
127
1. Thymine is in _______
2. Uracil is in _______
128
DNA is antiparallel what does that mean?
Runs in opposite directions
129
A and T make what type of bond?
130
C and G make what type of bond
131
1. The backbone of DNA is __________.
2. The bases on DNA are _________.
1. Hydrophilic
2. Hydrophobic
132
Name and describe the 3 levels of DNA structue
Primary - Sequence of nitrogen bases
Secondary - 3D base pair interactions (double helix)
Tertiary - Supercoiling
133
RNA is usually __________-stranded
Brings amino acid to the cytoprotein
Carries the code from DNA to ribosomes to build proteins
137
What are proteins made of?
138
What linkage can't mammals break?
139
What is the generalized amino acid structure?
140
What does the generalized amino acid look like at Physiological pH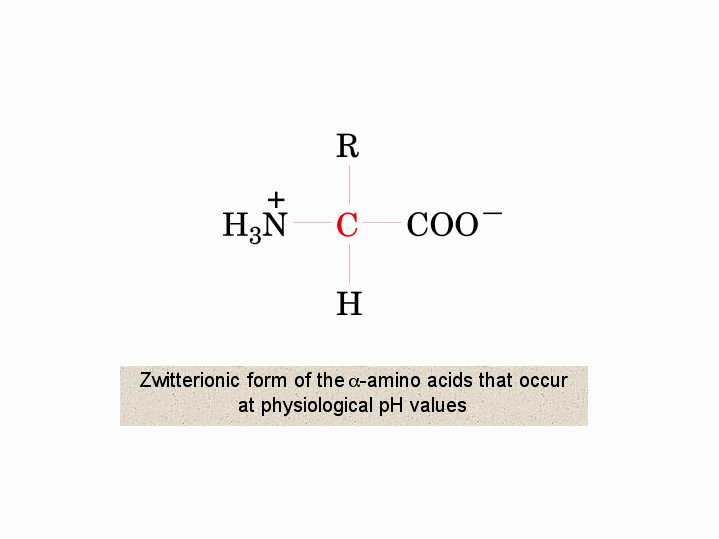 141
What are the 4 classifications of amino acids?
1. Polar charged
2. Polar uncharged
3. Nonpolar
4. Unique
142
Describe polar charged amino acids
Contain hydrophilic R groups that act as strong organic acids and bases
- Lysine, arginine, aspartic acid, glutamic acid, histidine
143
Describe Polar uncharged amino acids
Contain Hydrophilic R groups that are weakly acidic or basic.
- asparagine, glutamine, theronin, serine, cysteine
144
Describe Nonpolar amino acids
Contain hydrophobic R groups, tends to form an inner core of soluble proteins
- Valine, leucine, isoleucine, tryptophan
145
Describe the unique amino acids
Glycine - fits into both hydrophobic and hydrophilic environments
Cysteine - R group is polar, uncharged in character
Proline - R group is hydrophobic in character, creates kinks in polypeptide chains