1
10.1
Facade of the Colosseum / Flavian ampitheater; concrete. 70-80 CE. Used to be covered in marble panels. Mainly used for gladitorial combats, other amusement; could seat about 50,000 spectators. Ornamental Greek columns frame openings - Tuscan at bottom, then Ionic, then Corinthian. Combining Greek architecture with Roman arches.
2
10.3
Temple of Portunus. Rome, ca. 75 BCE. Stone - tufa and travertine. Ionic columns. Steps only in front. Pseudoperipteral - engaged columns around sides. Showed admiration of Greek architecture, but with Roman spin.
3
10.7
Head of an old man. First cen. bce. Osimo. Marble. Realism; VERISM. Departure from classic Greek sculpture: not interested in depicting perfect youth or beauty, but rather in making portrait.
4
10.10
Relief with funerary procession. For a former slave. Limestone. First cen. bce. Departure from Greek art: floating ground lines. Shows that this was commissioned by ordinary people - don't have classic Greek style favored by patricians.
5
10.14
Brawl in the Pompeii ampitheater. Wall painting from house in Pompeii. 60-79 CE. Romans at this time liked to decorate houses with painting - different from Greeks. Shows awning that could be rolled down to protect spectators from weather.
6
10.18
Dionysiac mystery freize. Second Style wall painting (created imaginary 3D space beyond walls). Pompeii. 60-50 bce. Fresco. Depicts goings-on of mystery cult of Dionysos - shows religious practices of times: cults formed around certain gods, initiation rites needed to become part of cult
7
10.19
Second Style painting. 50-40 bce. Made room look like it was more spacious.
8
10.20
Second Style painting. 50-40 bce. Faked a view into outside world, more space.
9
Gardenscape, Villa of livia, Primaporta. Ca. 30-20 BCE. Second Style wall painting. Fresco. Atmospheric perspective. "Picture window."
10
10.23
Fourth Style wall paintings. Ixion Room, House of Vettii, Pompeii. 70-79 CE. Crowded, confused composition. Elements from First, Third, and fourth styles.
11
10.25
Portrait of husband and wife. Romans painted more than Greeks. Individualized faces. Ca. 70 CE. Wall painting. Man holding scroll, woman holding stylus and wax writing tablet, common elements in Roman Republic portraiture.
12
10.26
Still life with peaches. Detail of Fourth-Stlyle wall paintingRomans were one of the few cultures that made still lifes before the 17th and 18th century Dutch examples. 62-79 CE.
13
10.27
Portrait of Augustus as General. Kept himself looking young. Powerful oratory gesture. 20 bce.
14
10.28
Portrait bust of Livia, Augustus's wife. Forever young like Augustus.
15
10.29
Ara Pacis Augustae. Friezes depicting peace and harmony in nature, commending Augustus's reign of peace. ca. 13-9 BCE. Augustus wanted to parallel his reign with Golden Age of Athens.
16
10.30
Female personification of Tellus (Mother Earth)? Breezes riding on animals around her, holding two children. Fertility, peace, nature in harmony.
17
10.31
Ara Pacis Augustae, procession of imperial family. Showed movement, chatter, children acting like kids instead of mini adults. Depth: some people behind others. Purpose - furthering Augustus's political agenda. Worried about decline in birth rate, so showed children with their fathers to show moral example.
18
10.32
Maison Carree, Nimes. Corinthian pseudoperipteral temple. Stairs only in front. Pseudoperipteral, Corinthian columns.
19
10.33
Pont du Gard. Aqueduct. Cement. Skilled building and aesthetic purpose. Skilled engineers.
20
Portrait of Vespasian. Verism. Ca. 75-79 CE. Marble. Statement: abandoned youthful ideal representation started by Augustus in early empire, re-instated verism from Republic portraiture.
21
Portrait of a Flavian woman. Elegant, realistic coiffure (drilled holes instead of simply chiseled). Rome, marble. Ca. 90 CE. Elegant, swan-like neck.
22
10.34
Porta Maggiore, Rome. 50 CE. Rusticated masonry. Aqueduct support.
23
Arch of Titus. Rome, ca. 81 CE. Triumphal arch - type of structure that commemorated success of emperor. Commissioned by Domitian. Entrance framed by Ionic/Corinthian composite engaged columns (similar to Colosseum).
24
Spoils of Jerusalem, on Arch of Titus. Commemorates defeat/sacking of Jerusalem under Titus.
25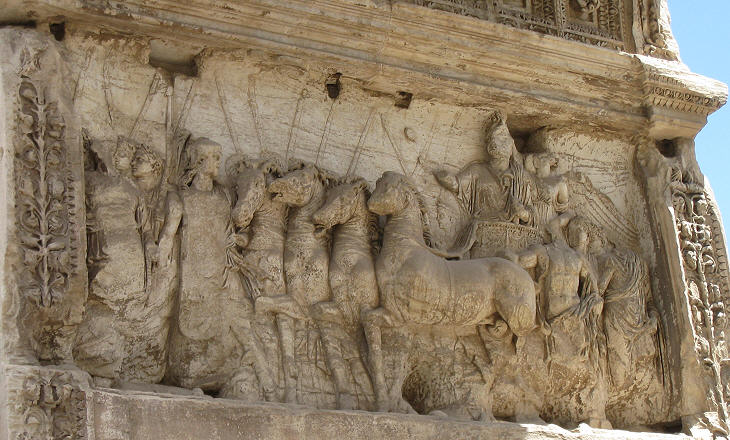 Triumph of Titus. Relief on Arch of Titus showing Titus' victory procession after sacking Jerusalem. He rides with Victory, surrounded by Honor, Virtue, and Tellus. Displays imperial values associated with success.
26
Column of Trajan. 112 CE. 625-foot band winding around column in narrative relief of Dacian Wars. Topped by statue of Saint Peter dating from 16th Century (used to be heroically nude statue of Trajan).
27
Arch of Trajan. Ca. 114-118 CE. Features Trajan's many achievements. Relief panels on both sides. Triumphal arch.
28
Pantheon, Rome. 118-125 CE. Shows full potential of concrete as building material. Function - temple of all gods.
29
10.58
Decursio pedestal of the column of Antoninus Pius. Rome. Floating patches of earth, departure from Classical style. Ritual circling of funeral pyre.
30
10.60
Sarcophagus with the myth of Orestes. 140-150 CE. Marble. Repeating patterns - indicates sculptors' access to pattern books. Reliefs only on front and sides because sarcophagi were placed against the wall.
31
10.65
Chariot procession of Septimius Severus. Relief from his arch. Marble. Shows new non-naturalistic style where Severus and two sons face outward even though chariot is moving forward.
32
10.67
Baths of Diocletian. To win public's favor. Lavish, wonderful decoration, soaring groin vaults.
33
10.68
Portrait of Trajan Decius. Verism. 249-251 CE. Marble.
34
10.70
Battle of Romans and barbarians. Mess of figures, no "ground." Shows frantic, chaotic nature of battle. Sarcophagus of Ludovisi.
35
Portrait of a Roman general. Tivoli, ca. 75-50 BCE. Marble. Portrait head - verism - shown on youthful and ideal body (common occurrence in Republican portraiture). References to Greek art show elevated stature of subject (patrician).