1
5.2
Geometric krater from Dipylon Cemetery; Athens. Grave marker. Geometric designs, stylized people. One of earliest examples of Greek figure painting.
2
5.3
Herakles and Nessos (centaur); Olympia. Geometric. Bronze.
3
5.4
Mantiklos Apollo; Thebes. Bronze. Orientalizing. Statuette of youth, dedicated by Mantiklos to Apollo. Eye sockets used to be inlaid, maybe used to have helmet. Stylized hair, triangular body (leftover Geometric influence), stylized abs. Beginning to try to render "real" human figure.
4
5.5
Corinthian black-figure amphora; Rhodes. Ceramic with glaze - black figure. Storage jar. Features registers and animal friezes: both native (boars) and exotic / mythical animals (lions, lamassu, sphinxes, sirens) were depicted. Orientalizing (heavy Near East influence with animals).
5
5.7
Lady of Auxerre. Most likely from Crete. Orientalizing. Much more naturalistic than before, but still geometrically inclined with stylized hair. Hand over heart is probably a gesture of prayer, marking this as a kore (girl) rather than a goddess.
6
5.8
Kouros. Grave marker. Marble. Archaic. Stylized musculature. Emulated stance the Egyptians gave to their pharaohs.
7
5.9
Calf bearer. Athens. Marble. Archaic. Man taking a calf to sacrifice to Athena; note archaic smile.
8
5.10
Kouros. Grave marker for soldier. Was painted at one point. Marble. Egyptian stance. Archaic. Archaic smile.
9
5.11
Peplos Kore. Acropolis, Athens. Marble. Was painted at some point. Note that arm is missing - important because artist was trying to break the four-plane barrier traditionally placed on statues. Archaic. Note women were always clothed in Greek sculpture until Classical period.
10
5.12
Kore. Acropolis, Athens. Marble. Was painted. Archaic. Note arms missing here too.
11
5.15
Temple of Hera I. Archaic. Marble. Paestum, Italy. Doric. Note squat columns and squashed capitals. Unique in that a row of columns ran down middle, dividing cella in two. Entablatures, sculpture lost.
12
5.17
West pediment from Temple of Artemis, Corfu. Limestone. Archaic. Shows Medusa running; also shows her son. Not meant to show a narrative (Medusa was dead before son was born), but rather meant to identify the central figure as Medusa. Panthers guard the temple.
13
5.18
Siphnian Treasury. Delphi. Ionic order. Archaic. Caryatids for columns. Sculpture on pediment and frieze (continuous).
14
5.19
Gigantomachy, detail of north frieze of Siphnian Treasury. Marble. Used to be painted. Some figures used to hold metal weapons. Apollo and Artemis chase giants, lions bite them.
15
5.20
Francois Vase. Chiusi, Italy (but Athenian). Ceramic black-figure. Archaic. By Kleitias and Ergotimos. "Masterpiece of early Athenian black-figure painting." Registers. Centaurs battling wedding revelers.
16
5.21
Achilles and Ajax playing dice. Athenian black-figure amphora. Vulci, Italy. Exekias (best black-figure painter).
17
5.22
Achilles and Ajax playing dice (Andokides painter's copy). Archaic. Significant - shows both black and red-figure painting, same scene on each side shown in different methods. However, not as masterful as Exekias.
18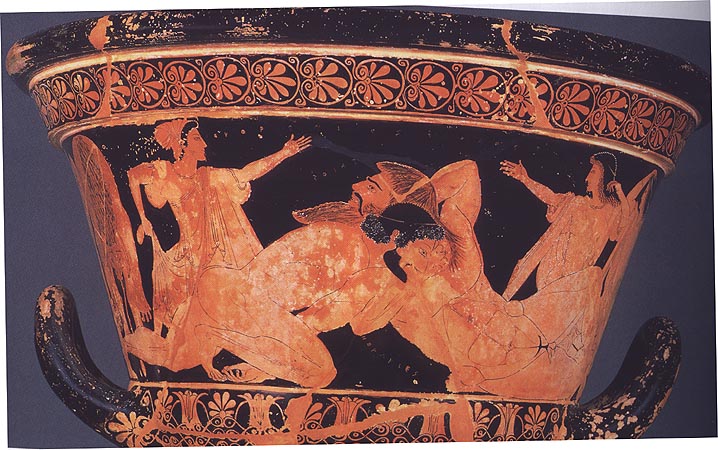 5.23
Herakles wrestling Antaios (giant). Red-figure Athenian calyx krater. Archaic. Significant - Herakles and giant showing pain, emotion on their faces. Figures overlapping instead of being totally separate - moving towards more naturalism.
19
5.24
Three Revelers, Euthymides. Athenian red-figure amphora. Study of how human figure moves, experimenting with shapes and postures.
20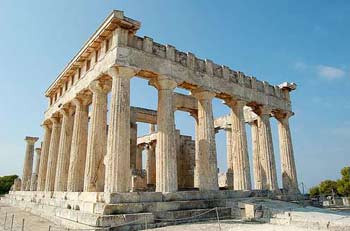 5.25
Temple of Aphaia, Aegina. Donic. Columns slenderer than Hera, more widely spaced: Greeks beginning to figure out how much support is necessary. Pediments used to have life-size painted statues. Transition between Archaic and Classical.
21
5.28
Dying warrior, west pediment of Temple of Aphaia, Aegina. Marble. Archaic (archaic smile). Compare to dying warrior on east pediment.
22
5.29
Dying warrior, east pediment of Temple of Aphaia, Aegina. Note that face is dowturned unlike other warrior on west pediment. More naturalistic, trying to show pain rather than follow conventions. Made only ten years after west warrior, yet drastically different. Showed shift from Archaic to Classical sculpture.
23
5.30
Temple of Hera II. Early Classical. Doric. Paestum, Italy.
24
5.31
East pediment from the Temple of Zeus. Olympia. Early classical. Marble. Developing use of awkward triangle space of pediment: progression of standing figures to prostrate figures. Story of chariot race between Pelops and Oinomaos. Note seer at bottom right.
25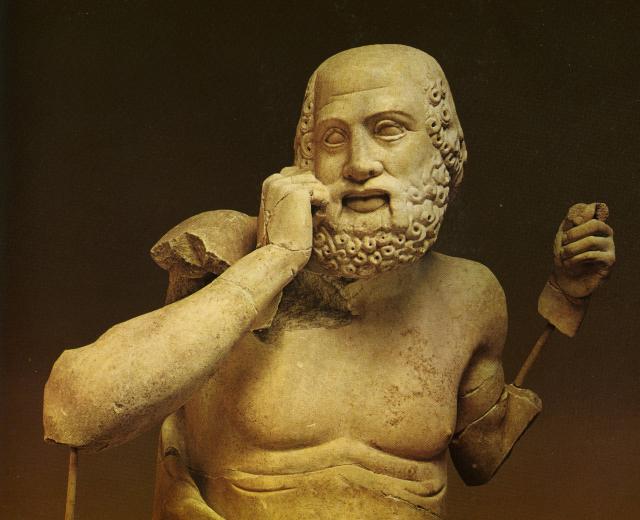 5.32
Seer from the east pediment of the Temple of Zeus, Olympia. Early Classical. Marble. Significant because he is not depiction of idealized, youthful figure - old, saggy chest. Greeks ever more interested in naturalism.
26
5.33
Athena, Herakles, and Atlas. Marble? Early Classical. Little expression in faces (severe style).
27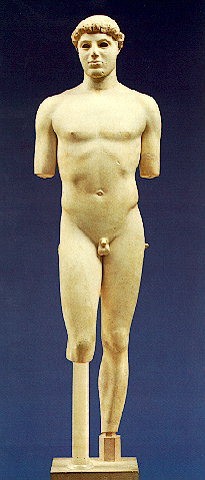 5.34
Kritios Boy. Acropolis, Athens. Marble. Short. Contrapasto - introduction of this natural stance, goodbye to stiff Egyptian stances.
28
5.35
Warrior from sea off Riace, Italy (recovered from shipwreck underwater). Bronze. Early classical. Contrapasto. Inlaid eyes, silver and copper detailing. Shield, spear, and helmet missing.
29
5.37
Charioteer from sanctuary of Apollo. Delphi. Bronze. Early classical. More naturalistic, but not entirely so; still fairly regular drapery. Slight contrapasto.
30
5.38
Zeus (or possibly Poseidon - depends on if he was holding thunderbolt or trident). Bronze. Early Classical. Masterful depiction of body in motion.
31
5.39
Diskobolos (discus thrower). ROMAN COPY - all that is available. Copy is marble, original was bronze. Early classical. Body in motion.
32
5.40
Doryphoros (spear-bearer). By Polykleitos. Canon. ROMAN COPY - all that is available. Copy is marble, original was bronze. Contrapasto. Highly realistic marble sculpture. High Classical.
33
5.41
Bust (hern) of Pericles by Kresilas. Roman marble copy of bronze original. Original was full bronze statue.
34
5.42-5.43
Acropolis, Athens. Pericles set forth a building plan on hilltop in Athens to honor Athena. High Classical.
35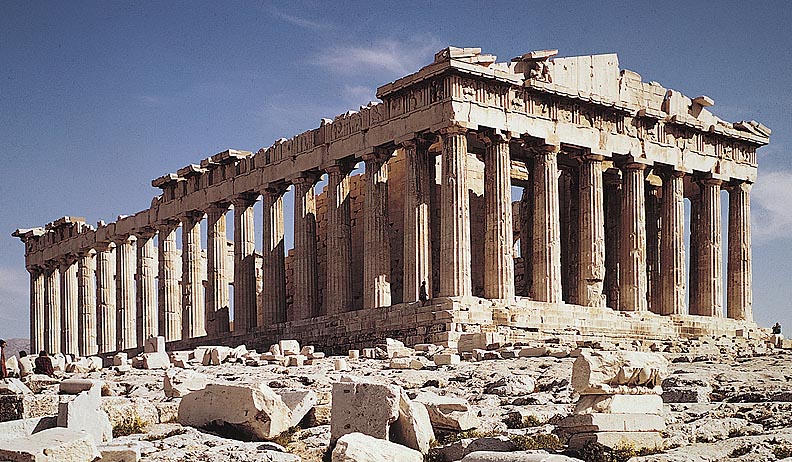 5.44
Parthenon. Acropolis, Athens. Designed by Iktinos and Kallikrates. Irregularities - such as bowing up of pediment and thinner corner columns - intentional to give building appearance of perfect symmetry. Temple for Athena. Idealized proportions. Doric order. High Classical.
36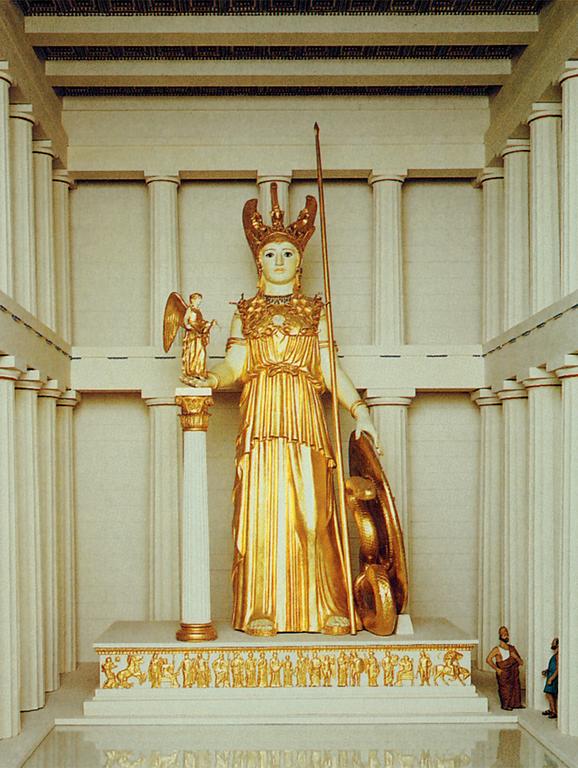 5.46
Athena Parthenos: model of lost statue. Cella of Parthenon, Acropolis, Athens. Original 38 feet tall. Ivory and gold. Monumental tribute to Athena.
37
5.47
Helios and his horses and Dionysus (Herakles?) Parthenon pediment, Acropolis, Athens. Horses emerging from bottom of pediment; suggests sunrise. Marble. High classical.
38
5.49
Three goddesses, Parthenon, Acropolis, Athens. Marble. East pediment. "Wet drapery." Female figure still clothed.
39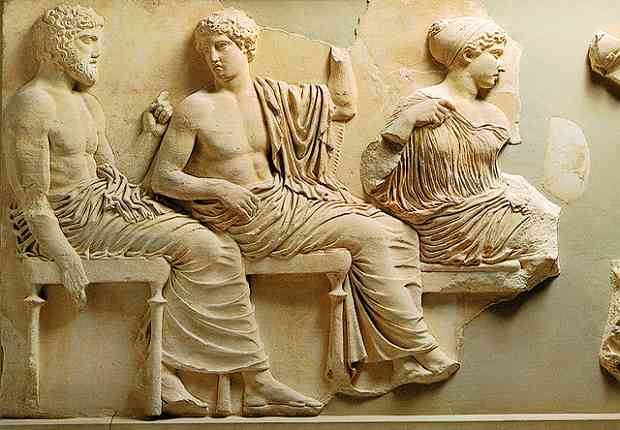 5.50
Seated gods and goddesses, Parthenon. High Classical. Panthanenaic Festival procession frieze. Marble. Ionic.
40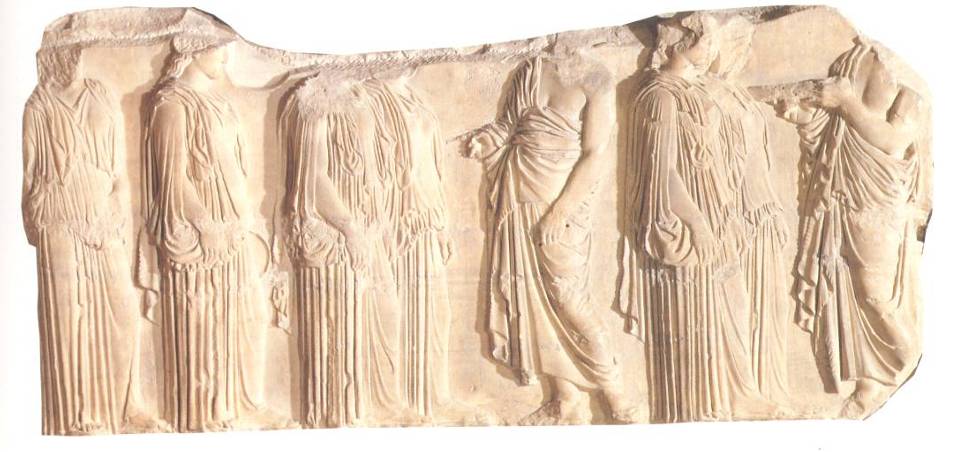 5.50
Elders and maidens, Parthenon, part of Panathenaic Festival procession frieze. Drapery. Marble.
41
5.52
Erechtheion, Acropolis, Athens. Ionic with caryatids. Replaced Archaic Athena temple destroyed by persians. Held wooden statue of Athena that was the destination of the Panathenaic Festival procession. Asymmetrical - unique in Greek architecture.
42
5.54
Caryatid from south porch of Etechtheion. Marble. Ionic. High Classical. Wet drapery.
43
5.56
Nike adjusting her sandal. Temple pf Athena Nike, Acropolis. Marble. Wet, WET drapery. Experimenting with awkward postures. High Classical.
44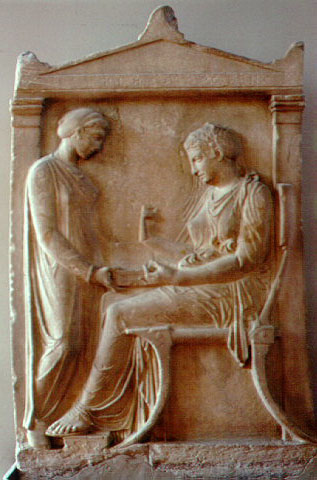 5.57
Grave stele of Hegeso, Dipylon cemetery, Athens. Marble. Funerary. Wet drapery. High Classical.
45
5.58
Warrior taking leave of wife, Achilles painter. White ground - new style. High Classical. Warrior will die.
46
5.59
Artemis and Apollo slaying the children of Niobe (Athenian red-figure calyx krater). Niobid Painter. High classical. Pottery on decline by this time.
47
5.60
Hermes bringing infant Dionysos to Papposilenos. Athenian white-ground calyx krater. Vulci, Italy. Phiale Painter. High Classical. Only used colors that would survive heat of kiln.
48
5.61
Youth diving. Ceiling of Tomb of the Diver, Paestum, Italy. High Classical. One of few surviving Greek paintings.
49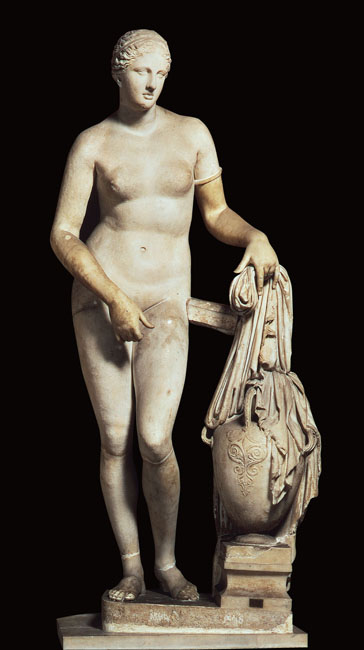 5.62
Aphrodite of Knidos. Roman marble copy of bronze original.Significant - one of first depictions of female nudity. Marked beginning of features of Late Classical. By Praxiteles. Aphrodite about to step into a bath.
50
5.63
Hermes and infant Dionysos. Temple of Hera, Olympia. Roman marble copy of bronze original. By Praxiteles? Anecdotal - major feature of Late Classical art. Though face not totally emotive, there is emotion in the situation.
51
5.64
Grave stele of young hunter. Illissos River, Athens. Late classical. Younger brother crying at hunter's feet. Old, pensive man shown. Marble.
52
5.65
Apoxymenos (Scraper). Roman marble copy of bronze original. By Lysippos, who introduced a new canon of proportions. Nervous energy, as opposed to staid calm of Doryphoros.
53
5.66
Weary Herakles. Lysippos. Roman marble copy of bronze original. Showed Herakles, instead of triumphant at victory, tired and worn down by his labors. High Classical.
54
5.67
Head of Alexander the Great. Pella. Merble. Lysippos, who was official sculptor for Alex.
55
5.70
Battle of Issus. Roman copy. Shows Alex defeating Darius. Emotional intensity. Represented solving of technical painting problems that faced early Greek painters.
56
5.71
Theater, Epidauros, Greece, by Polykleidos the Younger. Orchestra, viewers' areas.
57
5.72
Theodoros of Phokaia, Tholos, Delphi. Doric columns, Corinthian columns inside. Late Classical (375 BCE).
58
5.77
Stoa of Attalos II, Agora, Athens. Hellenistic. Shops, civic offices housed here. Meticulous reconstruction.
59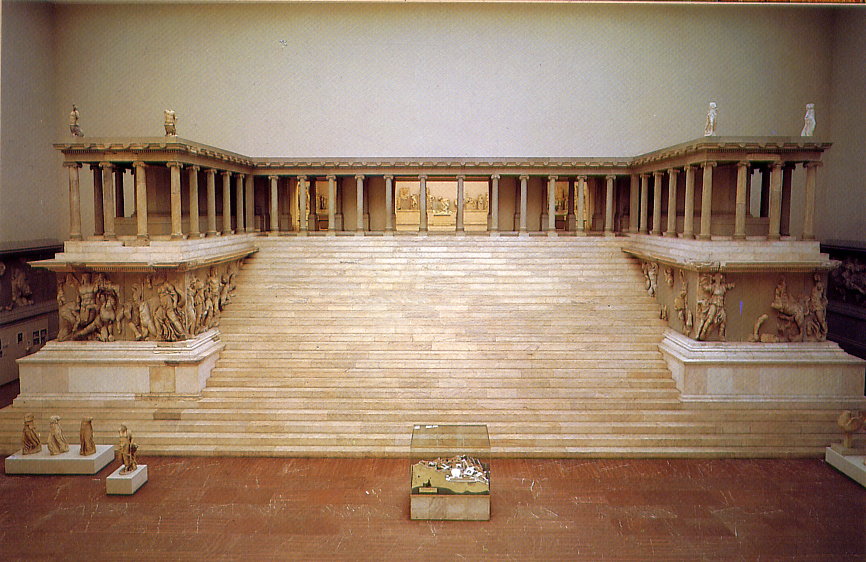 5.78
Altar of Zeus, commissioned by Pergamon. Reconstruction.
60
9.2
Fibula with Orientalizing lions. Gold. Etruscan.
61
9.3
Model of Etruscan temple. Statues at top were life size. Columns were wood. Terra cotta roof. Marble foundation - all that survives of Etruscan architecture now.
62
9.4
Etruscan Apollo (Apulu). Archaic. More animated than contemporary Greek statuary. Terra cotta. Regular, stylized drapery.
63
9.8
Tomb of the Reliefs. Cerveteri, Italy. Covered in painted stucco reliefs. Stools, mirrors, drinking cups - reminders of living houses - cover walls. Gouged from tufa bedrock, covered in the stucco reliefs.
64
9.9
Tomb of the Leopards, Tarquinia, Italy. Guarding leopards depicted in murals, along with banqueters. Mythical figures, rare in Etruscan art, are not present.
65
9.10
Tomb of Hunting and Fishing, Tarquinia. Nature reliefs.
66
6.16
Aule Metele, a magistrate. Orator. Bronze. Hellenistic. Drapery.