1
What are the functions of the nervous system?
Integration, sensory input, and motor output
processes sensory info, controls all body responses and activities, stores info
detecting and monitoring internal and external stimuli
causes a response in muscles and glands
5
The nervous system is divided into what parts?
central nervous system (CNS) and peripheral nervous system (PNS)
the brain and spinal cord
the cranial and spinal nerves and sensory receptors
8
What subdivisions is the PNS further divided into based on the direction impulses travel?
sensory (afferent) pathway and motor (efferent) pathway
9
sensory (afferent) pathway
receptors that detect stimuli and the neurons that carry info TO the CNS (incoming)
neurons that carry impulses FROM the CNS (outgoing)
11
What are the two parts of the efferent pathway?
somatic nervous system (SNS) and the autonomic nervous system (ANS)
mostly voluntary- includes the neurons sending info to the skeletal muscles
always involuntary- includes sending info to smooth and cardiac muscles. Divided into sympathetic and parasympathetic divisions.
14
What are the two main parts of the cells in the nervous system?
the functional unit of the nervous system, excitable cells that produce and conduct electrical signals and release chemicals for regulation and communication called neurotransmitters.
chemicals used to regulate and communicate
(glial cells) support neurons
18
The structure of a neuron includes:
a)cell body
b)axon hillock
c)processes (axons and dendrites)
has one nucleus, rough ER, and ribosomes to make proteins
thick base of the cell body
carry impulses TO the cell body, often branched
carry impulses AWAY from the cell body. a single long process that starts at the axon hillock. branches at its end to form axon terminals whose tips are filled with NT.
23
How are neurons classified by function?
a)afferent neutons
b)efferent neurons
c)interneurons
make up about 90% of all neurons in the body, connect sensory and motor neurons
25
How are neurons classified by structure?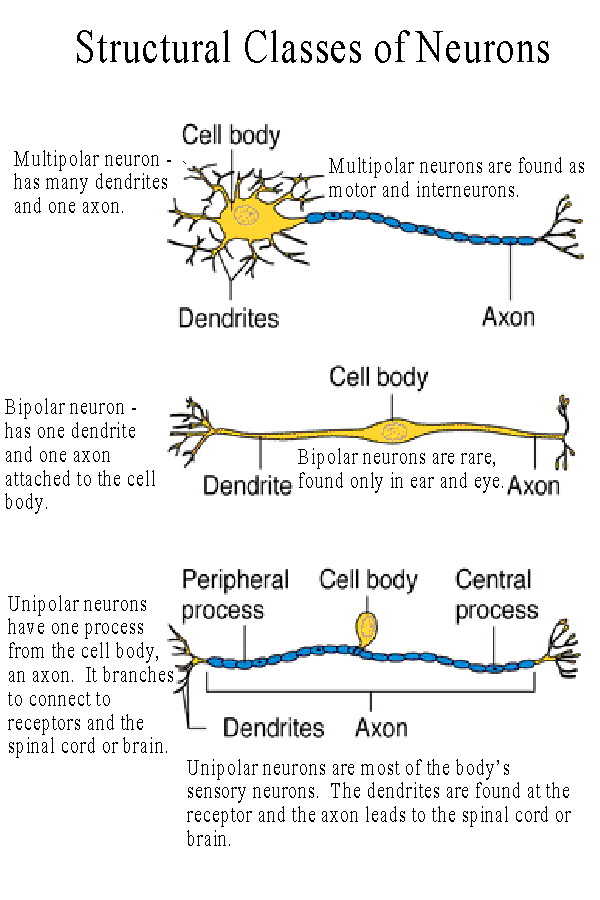 several dendrites and one axon; most common
has one dendrite and one axon
has one process that splits into an axon and dendrite; rare
29
Which glial cells are in the CNS?
astrocytes, oligodendrocytes, microglia, and ependymal
30
Which glial cells are found in the PNS?
star shaped cells that form the blood-brain barrier by covering brain capillaries in the brain.
form a myelin sheath around multiple axons which send signals faster
found near blood vessels and are phagocytic
line the inside of the spinal cord and produce cerebrospinal fluid
flat cells that surround cell bodies in ganglia to provide support
wrap around axons of PNS neurons and produce a myelin sheath
most PNS axons are myelinated, only some are in the CNS
unmyelinated gaps along an axon; nodes are in contact with the extra cellular fluid (ECF)
made up of myelinated axons
made up of everything else (cell bodies, dendrites, axon terminals, unmyelinated axons, and neuroglia)
change their membrane potential when they are stimulated which creates an electrical signal
42
resting membrane potential (RPM)
occurs when all ions inside and outside of the membrane are in equilibrium; RPM = -70 in neurons
43
Na+ is high _____ the cell and the membrane is ________ permeable to Na+.
44
K+ is high ______ the cell and the membrane is ________ permeable to K+.
45
One pump cycle moves ____ Na+ out and ____ K+ in.
Allow ions to pass thorough the membrane
types: i)leakage channels
ii)gated channels
a)chemically-gated
b)voltage-gated
are always open and create a slow leak
must be stimulated in order to open and close
49
Chemically-gated channels
channel has ligands bound to it which cause the gate to open. The gate closes when there is no ligand present.
open and close when there is a nearby change in membrane potential (voltage)
the potential is making the inside of the cell less negative than the RMP ex. -60
the potential is making the inside of the cell more negative
the potential is making the inside of the cell more negative than RMP ex. -80
starts activity by moving neuron away from its RMP and creates a new potential
types: a)chemical
b)mechanical
c)electrical
55
Name the types of potentials.
initiated by a stimulus to either the dendrites or cell body. they can be weak or strong depending on the stimulus. transmitted along the membrane of dendrites/cell body towards the axon hillock.
initiated ONLY if a STRONG graded potential makes it to the axon hillock; spreads along the length of an axon to the axon terminals
58
Graded potentials _____ as they travel.
59
Strong enough graded potentials reach a ___________ which is located on the axon hillock.
is only activated if the graded potential is strong enough (if GP hits a threshold voltage, TV, of -55mV)
the neuron hits threshold and an AP is generated in the axon
there is a high concentration of Na+ voltage-gated channels. if threshold is reached: channels open and Na+ rush into cell which causes depolarization and initiates the AP
64
Action potentials are based on
if the threshold is reached or not; the activity of voltage-gated Na+ and K+ channels
65
What are the steps of an action potential?
1.resting state
2.depolarization
3.repolarization
4.hyperpolarization
neuron is at RMP and Na+ and K+ channels are closed
stimulus depolarizes the membrane IF stimulus is strong enough, then the AP starts. Many Na+ channels open causing Na+ to rush in (causes depolarization). Few K+ channels open causing a little K+ to leak out. At the peak of depolarization, a second gate on Na+ channels closes (stops depolarization)
many K+ channels open and K+ leaves the cell
some K+ channels are still open after repolarization and the membrane over shoots RMP (hyperpolarization). Then all K+ channels are closed, Na/K+ pumps restore ions to original position (Na+ out and K+ in). Membrane returns to RMP.
ATP is needed to fuel Na+/K+ pumps but is not needed to generate an AP (done by diffusion)
71
How does a neuron respond to stimuli of different intensities?
a stronger stimulus means an increase in the frequency of AP
recovery period for the neuron after an AP
73
Absolute refractory period
axon membrane can produce another AP, but requires a STRONGER stimulus than before
one AP doesn't occur across the entire axon, only across a small distance (< 1mm). One AP stimulates a new one in the next region of the axon membrane and conduct along the axon to it's end. (Domino Effect)
75
Saltatory Conduction in myelinated axons
where there is myelin on an axon, channels don't open or close. APs jump from one Node of Ranvier to another; conducts APs 10-50x faster
occurs when an AP reaches the end of the axon; allows communication between a neuron and another cell (neuron to neuron or neuron to effector)
77
Which direction is the transmission of synapse information?
the presynaptic neuron sends info to the postsynaptic neuron or cell
space between presynaptic and postsynaptic neurons
1. an AP arrives at axon terminal
2. voltage-gated Ca2+ channels open and Ca2+ diffuses into axon terminal
3. calcium ions stimulate vesicles to release NT
4. NT crosses the synaptic cleft via diffusion
5. NT binds to the receptors on the postsynaptic cell and causes chemical-gated
6. NT activities stop when:
a) NT reuptakes back into axon
b) NT diffuses away from receptor
c) enzymes degrade the NT