Study Questions About the Human Body Flashcards
---
Grade levels:
6th grade, 7th grade, 8th grade, 9th grade, 10th grade, 11th grade, 12th grade, College: First year, College: Second year, College: Third year, College: Fourth year, Graduate school, Professional
1
What is the easiest way to see dots of color called phosphenes?
squint carefully
shut your eyes
cry copiously
look into the sun
2
What bodily function is also called "micturition"?
digestion
orgasm
burping
urination
any of a group of enzymes that split nucleic acids into nucleotides and other products
fat-splitting enzyme
any enzyme that catalyzes the splitting of fats into glycerol and fatty acids.
an enzyme that is a catalyst in the breakdown of peptide bonds that join the amino acids in a protein
an enzyme that catalyzes the hydrolysis of starch into simpler compounds
7
What type of human digestive enzymes split proteins into small peptides and amino acids?
nucleases
lipases
proteases/pertidases
amylases
8
How many fused vertebrae are there in the sacrum?
7
6
5
4
5
9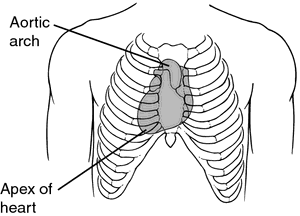 Dextrocardia
A heart misplaced in the right chest, with the apex of the heart pointing right
10
Situs Inversus
a condition in which the organs of the chest and abdomen are arranged in a perfect mirror image reversal of the normal positioning
11
Dextrocardia usually occurs as a part of situs inversus. What is situs inversus?
right-handedness
reversal of thoracic and abdominal organs
paralysis
high blood pressure
reversal of thoracic and abdominal organs
12
I am a diabetic. I can't produce insulin. Which diabetes type do I have?
type IV
type I
type II
type III
13
Type I Diabetes
Also called juvenile diabetes
typically begins early in life
Affected individuals have a primary insulin deficiency
must take insulin injections.
Type II diabetes is the most common form of diabetes
usually appears in middle aged adults
is due to improper use of insulin or insulin resistance
It is often associated with obesity
may be delayed or controlled with diet and exercise.
15
Which nerve does NOT help coordinate eye movement?
oclomotor
abducens
trochlear
trigeminal
16
Oculomotor Nerve
the third cranial nerve
contains both sensory and motor fibers
provide for muscle sense and movement in most of the muscles of the eye, for constriction of the pupil,and for accommodation of the eye
17
Abducens Nerve
the sixth cranial nerve
it arises from the pons
supplies the lateral rectus muscle of the eyeball, allowing for motion
18
Trochlear Nerve
the fourth cranial nerve
it supplies muscle sense and the impulse for movement to the superior oblique muscle of the eyeball
the fifth cranial nerve
it arises in the pons
is composed of sensory and motor fibers
has three divisions: ophthalmic, maxillary, and mandibular