1
What is Wartenberg's Disease?
Superficial Radial nerve compression between brachioradialis and extensor carpi radialis longus during pronation and ulnar deviation. Dorsal lateral aspect pain numbness and tingling.
2
How is Wartenberg's disease differentiated from de Quervain's disease?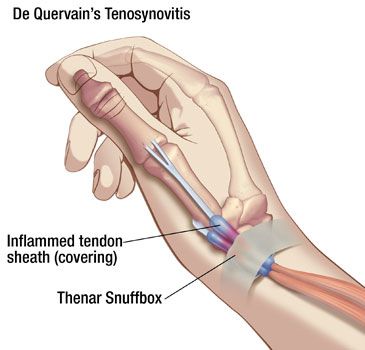 Finklestein test can be positive for both.

Palpation is beneficial.

Also nerve traction test for superficial radial nerve (pronate for 1 minure) or resisted pronation.
3
What digits can abduct with deep motor branch of ulnar nerve compression?
Second third and 4th cannot abduct but fifth digit should be able to abduct due to intact abductor digiti minimi muscle.
4
Deep motor branch ulnar nerve compression sensation changes?
Sensation should be intact. Might see some ulnar guttering of the deep motor branch intrinsic muscles rather than the hypothenar muscles
5
Ulnar Nerve Lesion at wrist causes paralysis of:
palmaris brevis, abductor digiti minimi, flexor digiti minimi, opponens digiti minimi, lumbricals 3 and 4, 3 palmar interosseous, 4 dorsal interosseous, adductor pollicis and deep half of flexor pollicis brevis
6
Palmar Interosseous Muscle Action
ADDUCT fingers
7
Dorsal Interoesseous Muscle Action
ABDUCT fingers
Ulnar nerve injury evidenced by weakness of adductor pollicis flexor pollicis brevis and first dorsal interoessous muscle. Substitution of FPL causing hyperflexion of Thumb DIP
Lateral border: hook of the hamate
Medial border: Pisiform bone
Floor: Joining of transverse carpal ligament and pisohamate ligament
Roof: Palmar Fascia and palmaris brevis
10
Guyon's Tunnel structures that pass through
Ulnar nerve and Ulnar artery
Abduct small finger

Palmaris Brevis receives innervation from only motor twig of superficial branch of ulnar nerve (after it passes through tunnel of guyon)

Contrastly, this muscle is spared in a lesion affecting only deep motor branch
12
anterior interosseous nerve injury
Anterior interosseous nerve innervates flexor pollicis longus, pronator quadratus and flexor digitorum profondus. Exam shows absent or reduced flexion IP joint of thumb and DIP of index finger,